WooCommerce's default shop page is dynamically pre-set, and mostly you don't have any control over its design. Then how to customize the WooCommerce shop page? How to make it to be per your needs as it is one of the essential pages on your site? Being able to manage the store page effectively is definitely an advantage.The shop page is frequently used as a placeholder to display all of your current items available for sale. The shop page might not be displayed in the same way as other pages on your site appear because you can have different settings for specific post type archives.The theme that you use will be the basis for your default WooCommerce shop page's appearance and layout. Products on the shop page are usually shown in grid layouts.The grid layout usually has an image of the product, as well as the price, product name, and star ratings from customer reviews. A brief product description is listed for each product on that page. Product variations or product quantity are typically not included in grid data.Many default WooCommerce shop pages are full width. Some have a sidebar that allows you to add filter widgets (check best WooCommerce product filter plugins) and other customization options.The shop page can look great without any customization. Customization can be ideal for certain products, but also ineffective for other items. If you're looking for a better way to display the products that you're selling, it is good time to consider customizing the WooCommerce shop page.
How To Customize WooCommerce Shop Page?
There are plenty of ways to customize the default WooCommerce shop page. There's no limit to the amount or type of changes that you can make. For instance, you can add custom fields, display exclusive offers, edit the default layout, include product filters, add or remove sidebar, create custom WooCommerce sidebar, or make any other edits.
METHOD 1 Customize WooCommerce shop page using page builder
Page builders can alter a shop page's layout, design, amount of items displayed, product types, etc. The best part about using a page builder is that you don't need to change any theme files or write code.You can edit the WooCommerce shop page using Beaver Builder, Divi Elementor, Visual Composer or using any other popular page builder without ever having to touch a single line of code.
.
METHOD 2 Customize default WooCommerce shop page using the plugin
Here are some other plugins which are not page builders you can use to customize and edit WooCommerce pages:
1. StoreCustomizer (formerly WooCustomizer)
StoreCustomizer plugin comes in a free and paid version. The plugin uses WordPress Customizer's settings to make live changes to your WooCommerce store. You can view your edits as you're making them.You can hide price (how to hide price in WooCommerce) or remove the "Purchase" and "Add to Cart" functions from your online store if you want. Doing so will let you create your own unique WooCommerce catalog.
Catalogue Mode settings can be set for particular products or all of your WooCommere products. These settings can also be applied just for users who haven't logged in. This will ask users to create an account and log in so they can purchase items from your site.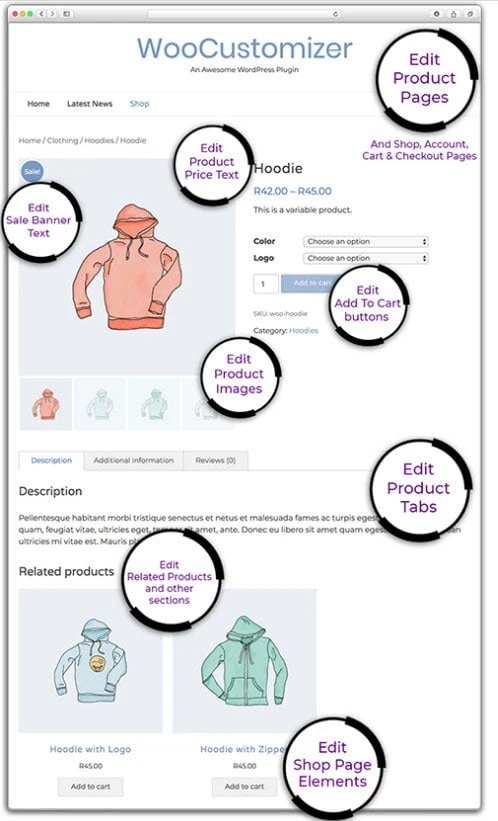 Product Quick View for WooCommerce can be activated to help users browse your online product catalog faster. Users can preview the items that they're interested in and then add them to their online shopping carts.
They can also use the WooCommerce Shop page to view a brief image gallery pop-up of items that they're searching for. Once your customers know what they're going to buy, they can easily click on 'Add to Cart.'
Pop-up windows can be set to appear on your Category and Product pages. There are additional settings that can be used to customize the image gallery pop-ups and Product Quick View with the design and layout of your WooCommerce store.
WooCommerce Ajax Search can be used to aid your customers in finding the items they want in less time. You can use a simple shortcode to display the Ajax Product Search function anywhere on your site.
Adjust the feature's settings so that whenever your site visitors use the Ajax Search bar, an assortment of predicted WooCommerce items will be shown. There are many more features of this plugin, and it is one of the best ways to customize WooCommerce shop pages.
2. Storefront Blocks
Storefront Blocks can be used to override the existing default WooCommerce shop page layout and design, category page, and home. These blocks can be integrated without having to enter any code.
There are eight different premium WooCommerce Storefront Blocks. A Product Category Block, Product Carousel Block, Product Slider Block, Product Table Block, Masonry Product Block, and Square Grid Block are just some of the available options.
Usually, WooCommerce creates your category pages dynamically for you. Those pages aren't very distinct. They typically have the same layout and design as all of the other pages in your store. You can't change their appearance, either.
Using Storefront Blocks, you can create customized category pages. If you could change how each category page looked, there's a better chance of increased sales.Storefront Blocks can help to improve your search engine optimization because you can add more appealing content that's relevant to the particular items that you're trying to sell.
You can even use Storefront Blocks to redesign your home page. Themes usually automatically generate the items found on your site's home page. Storefront Blocks allow you to control the content. You can rearrange existing sections or add brand new sections, categories, and products.Blocks can be re-used, transformed, and expanded to full width. They allow you to adjust product grid columns and rows, label alignment and positioning, grid gaps, colors, fonts, and much more.
3. WooCommerce Blocks
WooCommerce Blocks can be used to show the products that you want to feature in your store. Products can be displayed by category and tag. You can also show items that are featured, hand-picked, best sellers or are currently on sale.
WooCommerce Blocks' latest edition also includes pagination. This is a convenient feature for store owners who have plenty of products for customers to choose from.
METHOD 3 Customizing the WooCommerce shop page manually
Another option is to skip the page builders and plugins and customize your site manually. This is a preferred method for people who don't want to add third-party plugins if not necessary.
If you're going to go this route, you don't have to be a coding expert, but you should have some basic coding knowledge. This method is not for everyone.
Step 1: Create a child theme
Now is a perfect time to create a child theme (how to create child theme) if you haven't already. This way, if you edit and update your main theme, you won't have to worry about losing all of those changes when there is a new theme update once those edits have been saved.
There are many ways to create child themes. You can do it manually or with the help of a plugin like Child Theme Wizard and the Child Theme Configurator. But you probably already have available child theme when you purchased your theme, or you can request one from your theme developer.
Step 2: Create the folder structure in your child theme
A cPanel (see cPanel vs vDeck comparison) or an FTP client can be used to alter website files. Once you create a child theme, go to /wp-content/themes/your-theme-name using cPanel File Manager or FTP like FileZilla. If, for instance, your child theme is for a Twenty Twenty theme, you can name your child theme as twentytwenty-child-theme or something similar.
Now in /wp-content/themes/your-theme-name create folder called WooCommerce. After that, create a file called archive-product.php in that folder, which is the shop page template file.
You now have a WooCommerce shop page. The next step is to add content to this empty page.
Step 3: Create content for your shop page
Anything that you type into the archive-product.php text editor can be seen in the shop page by your site visitors. You can opt to add coding to the page if you wish. If you don't or if you're not sure how to code that page, you can move on to step 4.
Step 4: Create a shop page template
Instead of creating a WooCommerce shop page from scratch, you can use an existing template and customize it. Start by looking at the parent theme. You'll want to find either the index.php file or the single.php file.If you see either of the two, simply copy it and paste it into the WooCommerce folder you have created in Step 2. If both the single and index.php files are available, just copy and paste the single.php file.
Delete the existing archive-product.php file. You'll want to do this because the file that you just copied and pasted will now be named as the archive-product.php file.Change the name of the file you have just pasted here (index.php or single.php) to archive-product.php.
This file will be used as your store page, even though it will probably look like one of your site's product pages. You can use shortcodes to customize the page so that it looks more like a store page.
Step 5: Customize the shop page using shortcodes
Start by separating your products into rows or columns. For instance, if you want to place your products into two columns with no more than six products per column, here's the shortcode that you'll need to enter:
[products limit="6″ columns="2″]
Now your WooCommerce shop page is ready to go! You can add extra code or shortcodes if you'd like. Feel free to experiment with different shortcodes until you're comfortable with the look and feel of your shop page.
Create Custom WooCommerce Shop Page
Your WooCommerce store's shop page is one of the main pages that people go to find out more about your products. That's why it's important to have a page that draws customers in and entices them into making a purchase.
The design needs to be visually appealing and user-friendly. Shop pages are traditionally pre-designed. WooCommerce doesn't have a built-in resource available if you want to change how the page looks.
The default shop page has plenty of convenient features for site owners. The problem is that it's not the best solution for every online store. Enhancing the layout and design of your store's shop page can help increase sales, improve conversion rates, make the site easier to use. It should also be visually appealing enough to draw more traffic to your site.